Chile is a beautiful country to visit for nature lovers. Here is a summary of what you can do over there. And it is really worth it, so consider it as a once in a lifetime opportunity.
Trekking & Hiking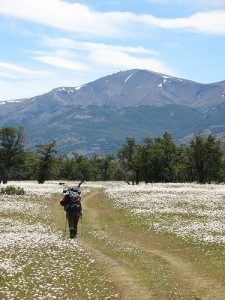 Chile is a paradise for every outdoor fan, even around the metropolitan area hikers can find untouched nature. The father north or south you travel, the fewer infrastructures you will find. For everybody who loves hiking and wants to experience some real adventure Chile is the place to go.
With the exception of some national parks, signs and other orientation tools are hard to come by, so a good map and a GPS device are mandatory. Make sure to take comfortable and sturdy hiking boots, warm clothes, a tent, sleeping bag, cooking equipment and everything else you need out in nature. For longer trips it is necessary to take food because it may not be possible to buy anything along the way. Below are some interesting tours:
Volcano Antuco Tour
The 2985 meter high volcano is located in the national park Laguna del Laja and is perfect for a 2 to 3 day tour. There are no shelters along the way, therefore a tent is necessary. On the way you will see Sierra Velluda (3585 meters), countless waterfalls and a field of cold lava.
Sierra Nevada Tour
In the surroundings of Temuco, around the volcano Llaima (3125 meters) and the national park Conguillío hikers can find the mountain rage Sierra Nevada. The trail takes round 2 days to complete and is not difficult. Nonetheless, a map and compass are mandatory.
Circuito Los Cóndores Tour
A longer tour through the Andes nearby Talca, the entire trail takes about 8 to 10 days but it is possible to walk only parts of it. On the way you will see the Río Claro, the 3830 meter high volcano Descabezado Grande, waterfalls, hot springs and a lot of untouched nature. In some parts of the trail it is helpful to have a tour guide because the tracks are hard to find. A pack horse is a good option to carry all the supplies (including food) you must bring with you.
Glacier Tour
For inexperienced mountaineers the national park Torres del Paine in Patagonia is perfect to experience a glacier tour. Still the tour should not be taken alone, once you are on the top you are surrounded by 18.000 square kilometers of ice.
Birdwatching
Chile's variety of natural habitats makes it an excellent destination for birdwatching. In the different ecological zones within Chile, bird lovers can expect to see the Dusky-tailed Canastero, White-throated Tapaculo, Moustached Turca, Chilean Mockingbird, Chilean Tinamou, Crag Chilia, Chilean Seaside Cinclodes and Slender-billed Parakeet. Some interesting bird watching spots in Chile are:
Andes
In the Andes you will get great chances to see many fascinating bird such as the Crag Chilia, the Rufous-banded Miner, White-sided Hillstar, Yellow-rumped Siskin, Greater Yellow-finch, Black-winged Ground-dove and of course the majestic Andean Condor.
Coastal Mountain Range
In the La Campana National Park which is a typical Central-Chile Mediterranean landscape you will be able to see the Dusky-tailed Canastero, White-throated and Dusky Tapaculos, Moustached Turca, Chilean Mockingbird and Chilean Tinamou.
Coastal Wetlands
Around the sandy beaches there are high chances to spot Collared Plovers, Willets, Black skimmers, White-backed Stilts and up to five tern species. In the lagoons and marshes there are possibilities to find South American Snipes, three South American Grebes (Great, White-tufted and Silvery), Plumbeous Rails, Lake Ducks, Red Shovelers, Speckled Teals, Chiloe Wigeons, Black-headed Ducks and Black-necked and Coscoroba Swans.
Humboldt Current
Around the Humboldt Current before Vallparaiso you might spot a Humboldt Penguin, Peruvian Booby, Peruvian Pelican, Guanay Cormorant or Peruvian Diving-petrel. Plus you can spot animals like the Red-legged Cormorants, Inca Terns, Grey Gulls, Blackish Oystercatchers, and Southern Sea Lions.
Surfing
Chile has many beaches good for surfing, especially the northern region. Except for the winter months surfing is possible all year. The water temperature ranges from 15º and 20°C.
Although the waves in central Chile are bigger, the waves in the north are stronger and are better suited for surfing.
Surfing is not a popular sport in Chile, therefore instructors and gear are relatively expensive. A lesson costs about US$20 and gear for a day costs about US$15. Below are some of the most popular surfing spots:
Pichilemu
Located south west of Santiago, is the number one surfing spot in Chile. The town is the host of the annual national championships. It offers something for every kind of surfer. Beginners should try to catch their first waves at the beaches Las Terrazas or La Puntilla. More skilled practitioners should visit El Infierno, while only the most experienced surfers should consider Punta de Lobos where the waves can get up to 6 meters high and more.
Ritoque
Just north of Viña del Mar, Ritoque is one of Chile's most beautiful places for surfing. On the 13 kilometer long Playa Ritoque waves can get as high as 7 meters.
Curanipe & Pullay
The beaches around Curanipe are very popular for his long waves that can carry on for almost 1 kilometer. The Playa Pullay has waves up to 4 meter high, where tubes are very common.
Arica
Close by the city Arica is the Playa Gringo, where as the name tells many US Americans come to surf. Even though there rocks in the water, the qualification for the national championship takes place here. Waves can get up to 4 meters high.
Canoeing & Kayaking
Even though this extreme sport has become well-known in the US and Europe, it is not yet so popular in Chile. One day of canoeing can cost around US$140 – $160. The gear (helmet, neoprene suit, lifejacket) is usually included. Interesting tours are presented below:
Lago Espolón
The Lago Espolón is located about 8 kilometers from the town of Futaleufú in Chile's 10th region (a few hours from Puerto Montt). The canyon has several waterfalls and pools. For people with a good endurance this tour should be fine.
Río Leon
Close to Petrohué lies the Río Leon, you can experience waterfalls, pools and climbing areas. The activities in the river are not for the weak, and it is advised you take a tour with an experienced guide. Also, the water can be very cold.